Day Boarding now available at Crossways.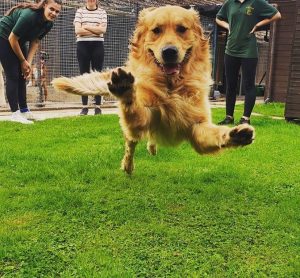 With 5 star facilities and with staff having over 150 years combined service tending to our guests, we are ready to help.
To enquire please:
Email info@crosswaykennels.co.uk
Call 01737 842054
Day Boarding is something we know we can help with, but we have never needed to. Our staff are the key and they have been busy tending to our overnight guests. We also provide swimming for our fitness clients and grooming our pooches ready to strut their stuff.
Recent events have meant we have had to leave our rooms lying empty, there are no guests wishing to stay overnight. As a result our fully qualified dog mad staff are kicking their heels.
We have a five star kennel facility as rated by the local Animal Welfare team at Mole Valley. Our on site hydrotherapy swimming centre is the only one sanctioned by the Canine Hydrotherapy Association for miles around…… At the moment these are sitting idle missing our loyal furry friends.
Set in the idyllic Surrey Hills we have 15 acres of fields for furry fun and a set of qualified staff just waiting to have some new friends to play with. We have the facilities and we now have the capacity to offer Day Boarding as well as our overnight boarding.
Details to help you.
We are open for Monday to Friday, Drop off from 8-8:30 and Pick up from 4-5:30 PM and have limited it to a maximum of 10 spaces.
The day boarding rate is £25.00 per day (inc VAT) and will include:
Two activity sessions per day.
Their own room if they wish to chill
Padding pool
Toys
Lots of hugs, treats and fun!
We can also offer 30 min swims in the hydrotherapy pool and full grooming facilities, the prices can be found on this website or alternatively please call us for a quote.
Please note we take the safety of our staff and guests equally seriously. There are some strict rules regarding social distancing and also animal welfare. Anyone who we feel does not meet these will be asked to leave for the greater good of all our other guests. We hope you understand, we only wish to offer a peaceful environment for everyone.
We are here and happy to answer your questions. Please review our website, Facebook and insta to get a feel for what we do and who we are.
Looking forward to meeting you all soon.
Emma Alex and the Team at Crossways.
To find out more about our Boarding and Grooming services please visit:
https://www.crosswayskennels.co.uk/boarding
https://www.crosswayskennels.co.uk/grooming